TOP STORIES
Listen, it's Friday, we get it. Nobody really wants to do anything that involves using your brain. So the new "Weekly Re-Up" will provide you with both the biggest "Fails" and the most awesome "General Awesomeness", as well as some other must-see shit from the week, and of course some boobs. We will also be including a "Weekend Rewind" selection to give you something to listen to this weekend. It's a whole lot of everything.

Now let's get started...
General Awesomeness:

Make Russ Proud:
I've said it before, but one of my biggest pet peeves is when older generations act so much fuckin' better than the younger ones. Since the dawn of man every generation has said the next one is going to ruin everything and it is never true. The same thing happens in hip-hop. Too often a older emcee, or even some current ones, come out and says that hip-hop is dying or is not as good simply because newer emcees don't do and say the same things as the older ones (case in point). Because we are younger, we somehow have know idea what hip-hop means and are ruining the genre blah blah blah; it's starts sounding like this after a while. So when I saw Russell Simmons talking about the state of hip-hop, honestly I thought I was in for another geezers' outlook, but he surprised me. Simmons had this to say (word to HiphopDx),
Poets, their job is to tell you what people are thinking," Simmons said. "And some of it is disturbing, but it's in our reality. You know? It's like they say 'Why [are] songs so sexual?' The research says that a man thinks about sex every 11 seconds. So, with that reality—I mean, an artist's job is to express what's on the hearts and the minds of people. I think the artists are sharing with us some really inspiring things and some things about ourselves that we don't wanna face. I'm not at all disturbed by where they're going. In fact, I'm actually proud of what Hip Hop has become.
Finally, an older guy with some perspective. It's pretty refreshing and quite frankly, reassuring to know that everyone who helped pave the way doesn't think we are fucking everything up. Also, he is totally right "My N*gga" is awesome; it even makes me like Jeezy. So moral of the story when someone speaks ill of hip-hop, simple show them YG.
Twerk Grandma, Twerk:
A little behind the scenes, insider information for y'all. Every week, Nathan and I compline the best viral shit and put it into a list for both General Awesomeness and Fails. Sometimes both categories are full (usually with Rob Ford shit) and sometimes they are a little lackluster. Look, there's a ton of cool shit every week, but these general awesomeness have to be more than just "look at that cute dog" or "that dude fell down". So when I saw "Grandma Dancing to Vanilla" ice, I clicked (because it's an old lady dancing to Vanilla Ice), but never expected anything more than "Best Of The Rest". Fuck though, Granny's got moves. No obviously she isn't doing Rihanna "Pour It Up" stripper parkour, but for being an old lady, she can move; was that a twerk I saw? I don't know what it is about it exactly, but I was fucking cracking up. I guess sometimes the simplest things really are the funniest. I don't have much else to say other than old and/or white people dancing or rapping will always be funny. Death, taxes, hip-hop grannies. If this doesn't make you laugh, you have no soul.
Best Of the Rest:
Little Kid Recites Every Bad Word He Knows
Mac Lethal Makes Double-Time Appearance On 'Ellen'
Supercuts of Every Cultural Reference in The Office, Sorted By Year
Watch A Couple Of Guys B.A.S.E. Jump Off NYC's Freedom Tower

In Case You Missed It:
Miles Davis' "Bitches Brew" Changed How I Think About Music
What's the Best Hip-Hop Remix of All-Time?
Fails Of The Week:

F. Dot & The Deadskins:

Being a Redskins fan isn't easy. Not only do I have to deal with a rooting for a team with a racist name, but I also have to deal with a team that consistently screws up by ruining perfectly good rookie quarterbacks and drafting guys like Fred Davis in the second round, one pick before some guy named Desean Jackson; he any good? Allow me to give you a rundown on Fred Davis career in Washington. The highly touted prospect showed promise in his second year before sucking it up in his second. his third he was blazing the competition racking up double digit touchdowns, but he was also blazing something else; he was suspended for four games thanks to testing positive on a drug test. Still, even though he only played 12 games he was named the Redskins offensive Player Of The Year, because that's just what happens when John Beck and Rex Grossman are your quarterbacks. Oh did I mention that in the midst of this, he was ensnared in an 18 month legal battle with a girl he met at a club, because apparently he threw a drink on her? Oh did I mention that he chose to represent himself instead of hiring a real lawyer? The transcripts from the courtroom are a must-read.
Davis: But as it shows, you also have your hands on his genitals. I mean, why would you take a picture like that?

Chaka: I do not. Let's look closely at the exhibit right here, Judge. Where is my hand placed in this exhibit?

Judge: I don't answer questions, Ms. Chaka.

Chaka: Oh, sorry.

Judge: The witness does.

Chaka: Can you tell me where my hand is actually at in this photo?

Davis: It looks like it's in the genitals to me. I mean your hands are on his genitals. Your hand is on his—

Chaka: Objection.
But that's not all. He is currently suspended indefinitely for failing another drug test. Oh, he also got a DWI, exactly one day after failing the drug test. It's been a rough few months for Mr. Davis, so what does any reeling athlete desperate to make the news for something positive do? Make a terrible rap video of course. Enjoy "All I Talk Is Money"
Stop the Baller Draft! Stop the Baller Draft! I know it was for basketball, but I'll trade my first two picks for the exclusive rights to Davis. I mean did you hear those revolutionary, insightful lyrics? And that commanding flow. Between Dan Snyder starting a Native American foundation, yet refusing to change the name and Fred Davis ruining rap, The Redskins are making the Browns look like the Patriots.
Edit: The video has since been taken down...wonder why. As soon as it's back up (because nothing is ever lost on the internetz) I'll have it back up, but trust me you aren't missing much.
Heard It Through The Vine:
I might come off as a hater here, but this pisses me off, Think of all the artists that pour their blood, sweat, and tears into their music, making creative, original content that often goes under appreciated. Sad as it may be, most of these artists will never get a deal because who needs to get a deal through years of hard work and sacrifice when you could just record six seconds of a already famous song, put it on vine, and et a big, fancy record deal? That's the case with Us. That's literally their name..."Us". Billboard has the scoop.
Just four months ago, Michael and Carissa Rae Alvarado, a husband-and-wife folk-pop duo known as Us, were trying to promote their just-released album "No Matter Where You Are" via YouTube videos and covers of popular songs. They fared reasonably well, amassing 18 million views and over 300,000 subscribers, but "even that wasn't enough to make our presence known," says Michael. "We knew we had to find another avenue."Their unique technique also helped boost re-Vines – filming only half their faces to focus on harmonies over looks (nevermind that they're an impossibly adorable couple.)... "We'd had a Vine account, but we never really too active on it. We tried to post funny Vines, but we're not comedians, so it didn't go over too well. But the six-second cover thing seemed to really take off and people seemed to like it."

Republic Records has signed Us to a deal that will include a re-released version of "No Matter Where You Are" later this spring, with new mixes of the album's breezy Mumford-in-love gems like "Don't Lay Your Head," "Make You Mine" and "Come Back" currently under consideration. A new video of the album's title track and lead single is also in the works.
So basically what this teaches us is that you can get a record deal by singing someone else's song for six seconds.
Now, don't get me wrong they can sing, sure it's generically poppy and softer drake at a Mattress Warehouse, but they can sing. I have no problem with them getting a deal, I have a problem with the way they got it. That's not creative, it's not hard work, it's a glorified Karaoke cover and your only "edge" is you don't show your face. There are too many original artist that go unheard to give credence to two people who are internet famous. If you wanna make vine videos fine, but stick to that, don't take up spots from real artists.
Worst Of The Rest:
Not-Stoned Rap Genius Founder Says He'll Maybe Buy Google
And This Is Why 'The Boondocks' Fourth Season Will Probably, Most Likely Suck
76ers Lose 26 Straight Games, Are Impressively Dedicated To Sucking
Here's Arnold Schwarzenegger Doing the Nae Nae and the Stanky Legg
Comment Of The Week:
Here at RefinedHype we are fans of picking on easy targets. Usually it's Drake crybaby jokes or Rick Ross fat joke, but RefinedHype regular TheG points out another easy target on the Nick Cannon whiteface article,
I always thought of Nick Cannon as white anyways.
Feel like this is his second or third comment of the week.If Nathan and I both perish in a freak Booty search expedition, we leave RefinedHype in his care.

Weekend Soundtrack:
I was at the gym and "Monster" came on...ended up listening to all of
My Beautiful Dark Twisted Fantasy
. Been listening too it non-stop on vinyl too, and even been spinning it in the car. Long story short, I'm on a serious MBDTF kick right now and I don't want to stop, which is why it'll be my Weekend Soundtrack. Every weekend is a god weekend for Kanye.
Booty Of The Week: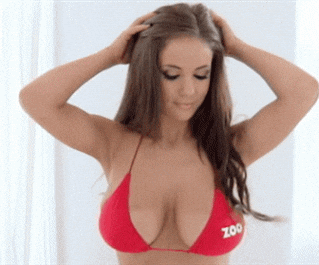 Have we used this Gif before, probably. Do you care? Definitely not. Rachel Williams ladies and gentleman. For optimal viewing, please watch with this playing.
RefinedHype has merged with The DJBooth. It's the same articles you loved on RefinedHype, new address. For more info, check out the official announcement.
THE BEST OF REFINED HYPE
RefinedHype on Twitter
---
Tweets by @refinedhype
REFINED HYPE ON FACEBOOK
---
REFINEDHYPE NATION
---